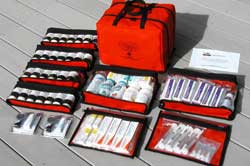 Our Training Team provides best-in-class hostile area training for international businesses, media, and NGOs travelling to high risk locations. Our Team and its Senior Training Officer have the knowledge, experience and skills to prepare and train your personnel and employees to face harsh, challenging and sometimes dangerous environments.
Whether for individuals or an entire office, BSG can give you and your staff the skills and confidence to conduct your business in any environment with reduced stress and risk.
Deploying and operating to new and challenging environments can be a daunting prospect. Our training packages can be delivered domestically or at a project site, regardless of where it is in the world, in order to prepare your personnel for a safe and successful project or sustained operations.
Training and education in the following areas:
Hostile environment
Pre-deployment and travel management
First aid
Counter kidnap
Crisis and incident management for field and executive staff
We offer 1, 3, and 5 day sessions for all of our training and also offer training to our Client's at their location if so desired. Please call today for a customized estimate.