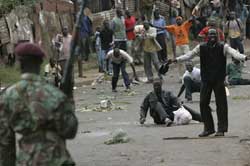 BSG has supported numerous organizations faced by crisis events.
Whether it has been a single event involving a single person or a complex and violent national disaster, BSG has been there to respond quickly with quality personnel to help those in need, resolve sensitive issues or exercise damage control and facilitate business continuity.
We have the infrastructure and people in place to respond when companies and organizations need it the most. We are a small business which means we can respond quickly and effectively; as our client, you will be dealing personally with some of the most experienced security professionals available – we will handle your situation with sensitivity and discretion.
BSG are also able to provide an Individual or Response Team held for a retainer fee and ready to deploy at an agreed notice and day rate/duration.
Our Crisis Response and Management capabilities include:
Immediate deployment of risk and security management professionals with no administrative or middle management delays.
Providing unbiased and constructive passage of communications and information between corporate home office and the field teams.
Escorting high value or crucial supplies and money into an affected area.
Supporting existing security management that might be overstretched or in danger of being overwhelmed.
Deploying to locate missing persons or assets and facilitating the recovery.
Augmenting or replacing members of security or management teams.
Providing a crisis management team to take control of a degenerating situation in country with a team supporting the home office through the crisis management functions.